Copts whose church was one of dozens destroyed by Muslim Brotherhood supporters have returned to the charred house of worship, with their pastor vowing the violence suffered by his flock will make them "better Christians."
"This will learn us to be better Christians," said Pastor Sameh Ibrahim of a torched congregation in Minya, the capital of Minya Governorate in Upper Egypt, where some 14 churches were reportedly attacked in recent days.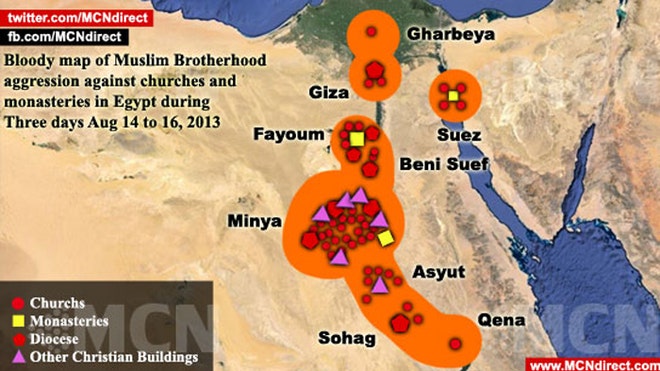 Across Egypt, at least 60 churches have been targeted, along with Christian schools, homes,businesses and even an orphanage, according to conservative estimates. In the areas of Minya, Beni Suef, Fayoum and Assiut, Christian homes and businesses have received leaflets warning them to leave or face reprisals by Islamists, Christians said.
Christian homes and businesses in Minya have reportedly been marked with black X's to single them out for attack.
Another pastor in the area shares his concerns. "We live in our church, so when someone attacks out congregation, it's as if our house is being attacked," said Pastor John Amin of the Meni Mazar church in published remarks.
"Our children are afraid," he added.
As violence envelops Egypt, Christians are paying a heavy price with scores of their most sacred buildings and monuments being systematically destroyed by members of the Muslim Brotherhood in what one Coptic leader called an attempt at ethnic cleansing.
via Fox News